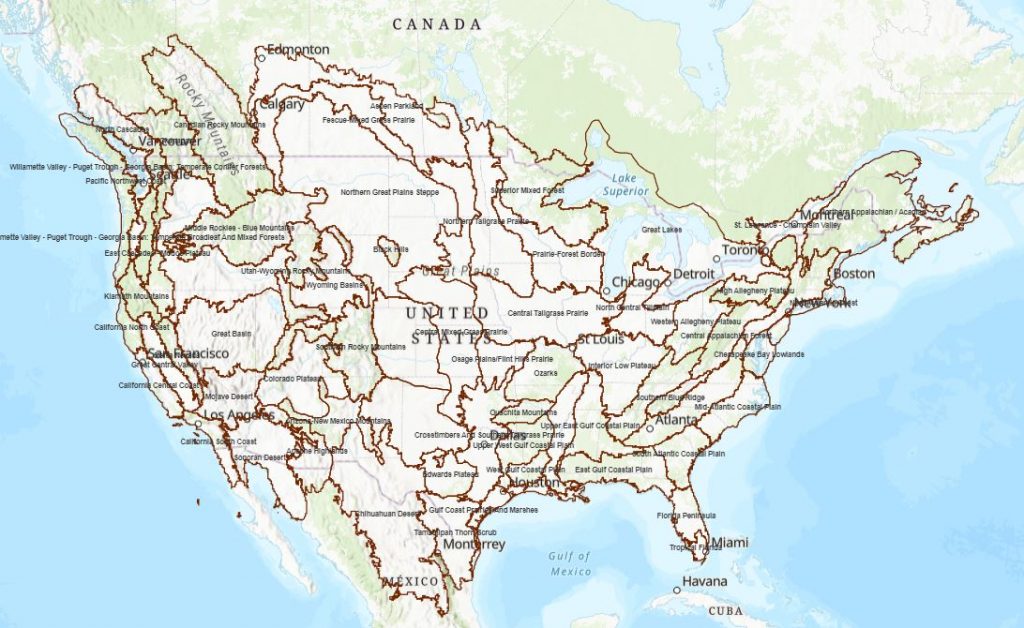 Ecoregions are large geographic areas characterized by their climate, vegetation, geology, and other ecological and environmental patterns.
In 1996, The Nature Conservancy (TNC) adopted Conservation by Design: A Framework for Mission Success, which established a long-term conservation goal, and an ecoregional approach for planning to achieve the goal. TNC's then goal was "the long-term survival of all viable native species and communities through the design and conservation of portfolios of sites within ecoregions."
TNC identified and mapped 68 ecoregions (later modified to 69) in the lower 48 United States, based upon Robert Bailey's U.S. Forest Service ECOMAP framework.
The product of ecoregional planning was a "portfolio" of conservation sites. The Conservancy hoped that the ecoregional plans would "provide a vision of conservation success, not just for The Nature Conservancy, but for the entire conservation community."
To view Protected Areas in an ecoregion, go to Rankings and use the Filters to select an ecoregion in the spreadsheet.
Arizona-New Mexico Mountains
Aspen Parkland
Black Hills
California Central Coast
California North Coast
California South Coast
Canadian Rocky Mountains
Central Mixed-Grass Prairie
Central Tallgrass Prairie
Central Shortgrass Prairie
Chihuahuan Desert
Colorado Plateau
Columbia Plateau
Crosstimbers & Southern Tallgrass Prairie
Dakota Mixed-Grass Prairie
East Cascades – Modoc Plateau
Edwards Plateau
Fescue Mixed-Grass Prairie
Great Central Valley
Great Lakes
Gulf Coast Prairies & Marshes
Klamath Mountains
Middle Rockies – Blue Mountains
Mississippi River Alluvial Plain
Mojave Desert
North Cascades
North Central Tillplain
Northern Great Plains Steppe
Northern Tallgrass Prairie
Okanagan
Osage Plains – Flint Hills Prairie
Oauchita Mountains
Ozarks
Pacific Northwest Coast
Prairie-Forest Border
Sierra Nevada
Sonoran Desert
Southern Rocky Mountains
Southern Shortgrass Prairie
Superior Mixed Forest
Tamaulipian Thornscrub
Upper West Gulf Coastal Plain
Utah-Wyoming Rocky Mountains
Utah High Plateaus
West Cascades
West Gulf Coastal Plain
Western Allegheny Plateau
Willamette Valley – Puget Trough
Wyoming Basins